APPLICATION

Continuous basalt fiber, due to its unique features such as chemical resistance, temperature resistance, water vapor permeability and porosity, is applied in various spheres of industry. It has the ability to create a wide range of composite materials, combining constructional and sound absorption features. Continuous basalt fiber and the products made of it are more ecologically friendly than glass fiber and carbon fiber.
Basalt Rebar – a modern constructional material, which is widely applied for construction works; that is to say: in the foundation of low-rise buildings, in the construction of underground walls, in the construction of roads, in road and sidewalk curbs, in the construction of ports, in the construction of channels, in the reinforcement of facades construction and in three-layer walls as flexible bindings.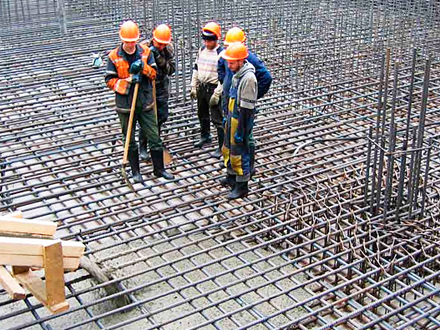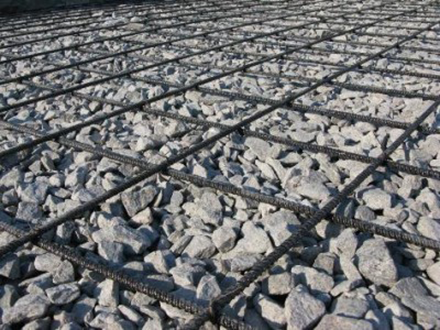 ​
Basalt Fiber – a modern constructional material which is widely applied in the construction of roads, while strengthening bridges, in the reconstruction of bank safes, in the car industry, as well as in the reinforcement of concrete and foam concrete, in the result of which the durability of the material is improved and the overall weight of the construction is significantly reduced.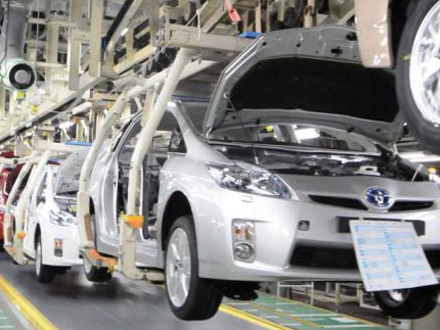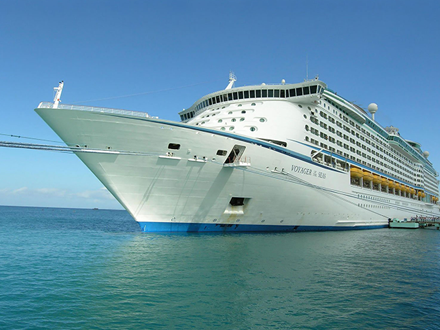 ​
Twisted Yarn – a modern constructional material which is widely applied in the production of various woven and nonwoven materials, as well as in the production of composite materials, based on epoxy, phenolic and other matrices.
Twisted yarn can be manufactured of two, three or more piles or it can be used as single one, without plying.
Basalt Reinforcing Mesh – a modern constructional material which is widely applied in the reinforcement of roads, facades of buildings and other surfaces, by improving their durability by three times, as well as it is applied in binding and masonry works for the objects of civil and industrial construction.
Basalt reinforcing mesh is a reliable binder for the reinforcement of brick and stone walls, ceramic blocks and cellular concrete blocks. It is applied in the structures made of glue, cement-sand and other binding matrices.
Basalt reinforcing mesh is applied in the construction of roads, the runways of airfields, hydraulic structures, the reinforcement of concrete floors and walls, as it is resistant to acid and alkaline environment.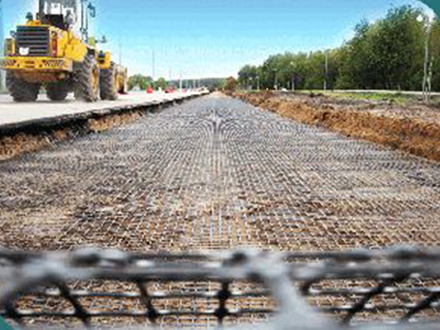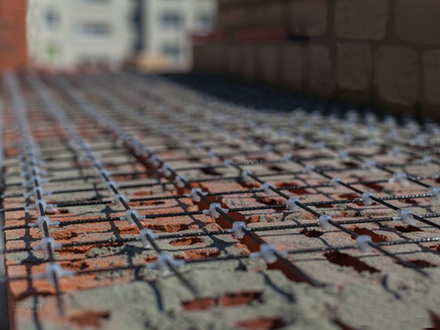 Brake Pads - the main feature of basalt brake pads, is the ability to withstand the highest temperature loads.
Pads can save up to 80% of its nominal working efficiency, even at 800 degrees, due to the features of basalt material. The durability is one of the main advantages of the pads, reinforced with basalt fiber.
Basalt pads practically do not creak while braking. The presence or the absence of water between brake discs and pads does not affect on the productivity of basalt pads.
External and internal vehicle parts can be produced with composite materials; that is to say: bumpers, fairings, spoilers, the interior trim of a vehicle, torpedoes, interior decorative panels, security elements of a vehicle, the protection of structural elements of a vehicle's wheels. Basalt fiber is an excellent material for manufacturing vehicle tire cords, as it has high durability and does not stretch under load, withstanding long-lasting loads. Besides, it is possible to grind and reuse rubber tires with basalt cord. Basalt scales are applied for anticorrosive vehicle undercoating. They have high strength and durability, providing high mechanical characteristics of coatings and reliable protection of metal from salt and acid impacts.